If you read this blog, then you are most likely an artist or graphic designer, not a game developer. Regardless, you can learn a lot from an analysis of a game publishing contract.
A while ago, a game publisher, Raw Fury, posted online their standard contract that they sign with game developers. The collaboration between a game publisher and a game developer usually works like this: a game developer makes a game, and a game publisher is responsible for publishing and marketing, and they split the revenue. Everything is specified in a contract.
Most publishers don't disclose their contracts, so we don't know what they look like. Raw Fury, however, published their contract online — that's already great. But the best thing is that Jan Willem Nijman, a game designer, went through the contract and made comments. As he says, there are some red flags, like the fact that Raw Fury adds a 15% markup to the advance money that they pay the developer. As an example, let's say that during the development of the game, the publisher pays the developer $1000 to help with expenses. Afterwards, the developer needs to pay back $1150. That's a lot. Also, Raw Fury expects to share the revenue 50-50, which is very unfair. You should never agree to a contract like that if you are a game developer — after all, you are doing most of the work for years. The standard is 70-30 — where 70% goes to the developer, and 30% to the publisher.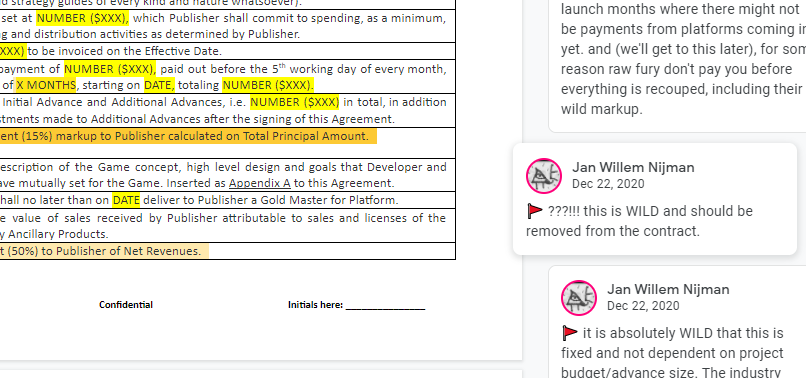 Still, it's gracious of Raw Fury that they showed us their contract. It's useful, you can learn a lot from it.
I am now much more careful with contracts that I sign. And most contracts can be negotiated. You can read it, and find parts you think are unfair, and you can usually negotiate them out of a contract.