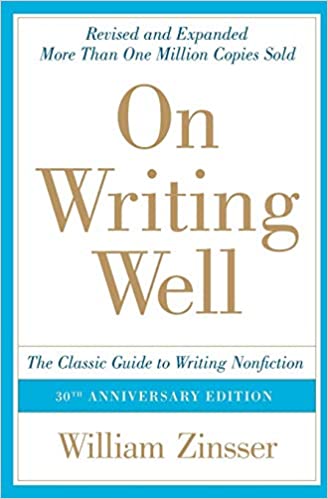 I've read "On Writing Well" by William Zinsser a few times already, but I've reread it these past few days. Now that I am writing a blog, I want to write it well. And the book is full of useful advice.
Here are a few highlights so that I can always keep them on hand:
SIMPLICITY
Strip every sentence to its cleanest components, remove words that don't serve any purpose, e.g.:
"Are you experiencing any pain?" → "Does it hurt?"
"A personal friend of mine" → "A friend"
AUDIENCE
Write for yourself, write as you talk, write to enjoy yourself, don't give a damn what the reader might think, don't be timid or evasive.
USAGE
Be careful with words.
As an example, here are two ways of using the word "too":
Wrong: "too" is a substitute for "very" (clutters the sentence): "His health is not too good", "He didn't feel too much like going shopping."
Good: when sardonic or humorous use: "He was not too happy when she ignored him."
LEAD
The most important sentence in any article is the first one. Nudge curiosity, keep the reader inquisitive.
Good lead examples:
"I've often wondered what goes into a hot dog. Now I know and I wish I didn't."
When in doubt start with a story, like so:
"At some point rather early in the spring of 1947, a Bedouin boy called Muhammed the Wolf was minding some goats near a cliff on the western shore of the Dead Sea."
Bad lead examples:
Future archeologist: "When some future archaeologist stumbles on the remains of our civilization, what will he make of the jukebox?"
Visitor from Mars: "If a creature from Mars landed on our planet he would be amazed to see hordes of scantily clad earthlings lying on the sand barbecuing their skins."
The cute event that just happened to happen: "one day not long ago" or "recent Saturday".
"Have in common": "What did Joseph Stalin and (…) Akira Kurosawa have in common? They all loved Westerns."
ENDING
The last sentence of each paragraph should have an extra twist."Make the reader smile and you have him for at least one more paragraph."
"The perfect ending should take your readers slightly by surprise and yet seem exactly right."
"Bring the story to full circle – to strike at the end an echo of a note that was at the beginning."
People should come away wanting to hear [the writer] again.
VERBS
Better use active and be precise e.g. don't say "he stepped down", choose "retired" or "was fired".
ADVERBS
Most are unnecessary.
ADJECTIVES
Also usually unnecessary. Make the adjectives do the work, don't use them as decoration, only use when they convey important information.
LITTLE QUALIFIERS
Remove! "A bit", "a little", "sort of" "kind of", "rather", "quite", "very", "too", "pretty much", "in a sense".
PERIOD
Short sentences are better.
EXCLAMATION POINT
Don't use often.
"Don't use to notify the reader that you are making a joke "it never occurred to me that the water pistol might be loaded!" Readers are annoyed by your reminder that this was a comical moment. They are also robbed of the pleasure of finding it funny on their own."
SEMICOLON
Slows pace, use rarely. Usually to add thought at the end of a sentence.
DASH
Use in 2 ways:
Amplify or justify: "We decided to keep going — it was only 100 miles more and we could get there in time for dinner."
Set apart a thought: "She told me to get in the car—she had been after me all summer to have a haircut—and we drove silently into town."
MOOD CHANGERS
Use "but" or "yet" at the beginning of a sentence. "However" is weaker than "but". Clear confusion with "later" or "now".
CONTRACTIONS
Use them, style will be warmer: "won't", "can't".
THAT AND WHICH
Always use "that" unless it makes your meaning ambiguous. If your sentence needs a coma to achieve its precise meaning it probably needs "which."
"Take the shoes that are in the closet." – Take the shoes that are in the closet, not the ones under the bed.
"Take the shoes, which are in the closet." – Only one pair of shoes is under discussion; the "which" usage tells you where they are."
CONCEPT NOUNS (nouns that express a concept)
Bad writing. Example: "the common reaction is incredulous laughter", better: "most people just laugh with disbelief"
OVERSTATEMENT
Don't!
"The room looked as if an atomic bomb had gone off there"
CREDIBILITY
Don't inflate incidents or make bogus statements
PARAGRAPHS
Keep them short.
Don't over-explain or put a value on a fact before the reader encounters the fact. Don't use: "surprisingly", "predictably", "of course".
INTERVIEWS
Quote people instead of writing about them.
Bad: "Mr. Smith said that he liked to go downtown once a week and have lunch with some of his old friends."
Good: "I usually like to go downtown once a week," Mr. Smith said, "and have lunch with some of my old friends."
Details! When writing about people details matter.
WRITING ABOUT PLACES
Don't write about everything, choose something different, that the reader might not know.
Eliminate facts that are known e.g. "beach scattered by rocks" and "occasionally a seagull flew over".
"Writing is hard work. A clear sentence is no accident. Very few sentences come out right the first time, or even the third time" – William Zinsser