One thing that's been on my mind recently is this whole situation with illegal sellers.
In December, I hired a lawyer and we sent requests to 19 people to stop selling my designs and pay me compensation. Recently, we've sent requests to 17 more people. But I've already found more. The most stolen one is: "Not Today", followed by "Overthinking and also hungry". Lately, people have been stealing my "All These Feelings" and "Vaguely Aware of Social Norms" too.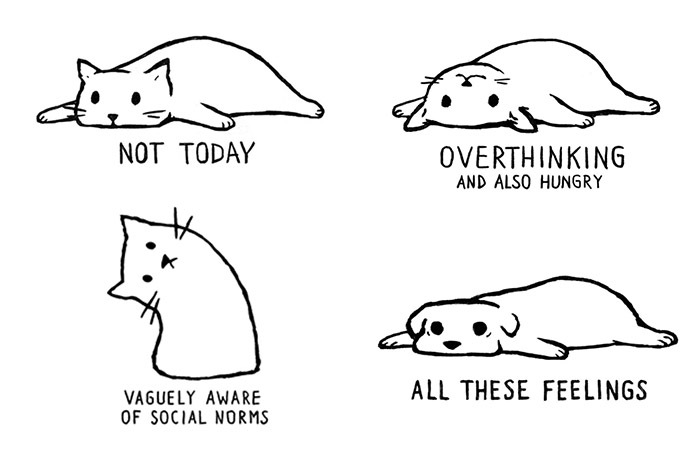 This feels like it's not going to ever end. As soon as we deal with illegal sellers, new ones show up. Some of the people contacted by my lawyer didn't remove the listings with my designs. One person removed the listings, paid the compensation, and then started selling my design without permission again. All those cases will need to be resolved in court.
We have selected a few companies to sue first but one of them unexpectedly paid part of the money that they owed. That was a nice surprise — if they pay the rest, then it's one less person to deal with.
Of all those people, the most upsetting is one company. I don't want to say the name yet because it's still possible that they will make it right. I used to buy clothes and shoes from them. I liked them! They are really huge — during Christmas when I visited my mom I saw their TV commercials. They can afford to hire artists and pay them. And yet, they stole two of my designs and didn't pay me.